The EDGE Theatre Presents: The Lifespan of a Fact
The EDGE Theatre Presents: The Lifespan of a Fact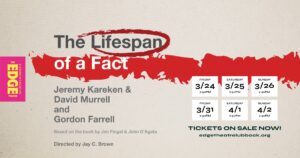 You don't want to miss out on this!
𝘛𝘩𝘦 𝘓𝘪𝘧𝘦𝘴𝘱𝘢𝘯 𝘰𝘧 𝘢 𝘍𝘢𝘤𝘵 is directed by Jay C. Brown and written by Jeremy Kareken & David Murrell and Gordon Farrell and based on the book by John D'Agata and Jim Fingal.
A critically acclaimed 2018 Broadway play, this fast-paced story explodes with blistering comedy and timely relevance. Emily Penrose (played by Pam Brown), the demanding editor-in-chief of a prominent but sinking New York high-end magazine, hires a determined fresh-out-of-Harvard millennial fact-checker named Jim Fingal (played by Frank Anguiano) to work on a groundbreaking essay written by the famous author John D'Agata (played by Bob Holton). D'Agata is a talented writer with a transcendent essay about the suicide of a teenage boy—an essay that could save the magazine from collapse. The deadline is tight, the essay is dense, and everyone must make a good faith effort in telling the story honestly. But when the overly eager Jim takes his fact-checking way too far, Penrose must step in and referee as Fingal and D'Agata come head-to-head in a comedic yet gripping battle over facts versus fiction.
 FOR MATURE AUDIENCES.
The Lifespan of a Fact is sponsored by Five Points Corporation, L. F. Hollingsworth, Investments, and United Supermarkets. 
Visit website for tickets:
JIM FINGAL                     Frank Anguiano
EMILY PRIMROSE         Pam Brown
JOHN D'AGATA              Bob Holton
#lbk #lbkarts #artslbk #lbktheatre #lbktheater #lbklocal #locallbk #theatrelbk #theaterlbk #lubbock #lubbocktx #lubbocktexas #lubbocktheatre #lubbocktheater #theatrelubbock #theaterlubbock #lubbockarts #artslubbock #theatre #theater #communitytheatre #communitytheater #theedgetheatrelubbock #lbktx #hubcity #ttu #texastech #lubbocksmallbusiness #lbkculturaldistrict #theedge
#goodstufflbk