Dads & Dogs: Shopping, Live Music, Giveaways, Food, Dog Adoptions & More! @ River Crossing Shopping Center
SHOPPING, LIVE MUSIC, GIVEAWAYS, FOOD, DOG ADOPTIONS, & MORE!
Family friendly, Father's Day weekend brought to you by: Stella's, Odds & Ends, and Hydronaut Aquatics
June 17th 6-8pm
River Crossing Shopping Center
Music: Kara Balko
Vendors: Operation Paw Prints, Dusty Puddles Dachshund Rescue, Grey Skies Golf, Blizzy's Ice Cream, R&S Designs, Marl Mess, Desert Nomad, Hooked on Junk, American Heart Association, The Cookie Box
Check
HERE
for more updates!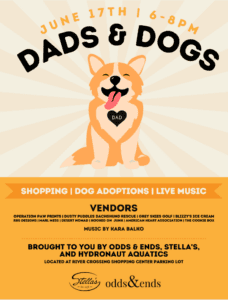 Odds & Ends: