Life Together Couples Workshop Presented By 100 Black Men of West Texas and Dr. Gaston Rougeaux-Burnes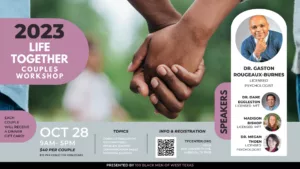 Life Together Couples Workshop Presented By 100 Black Men of West Texas and Dr. Gaston Rougeaux-Burnes
Relationships Are Hard.
Sometimes in life it would be easier if there were a road map to success.
An answer sheet for how to disagree in a healthy way.
A way to not have the SAME OLD arguments time, after time, after time.
For those of you waiting for opportunity to KNOCK and FIX your relationship.
THIS IS FOR YOU!
Join Dr. RB (Licensed Psychologist) and Dr. Eggleston (Licensed Marriage and Family Therapist), Maddie Bishop (Licensed Marriage and Family Therapist) and Dr. Thoen (Licensed Psychologist) on 10/28 at 9:00 am for an interactive relationship workshop to help both you and your partner begin the journey of finding a BETTER union, and healthier ways to interact.
Topics will include conflict resolution, problem solving, and identifying a financial plan for your relationship.
Breakfast and Lunch will be provided.
Childcare will be $10 per child.
**All Attending Couples Will Receive a FREE GIFT CARD FOR DINNER**
**All Attending Couples Will be entered into a RAFFLE for FREE COUPLE ITEMS**